Change password on windows 7 without knowing it. How to Remove Password in Windows 7 without Login 2019-04-20
change password on windows 7 without knowing it
Friday, April 19, 2019 10:46:03 PM
Ignacio
How to unlock a PC without knowing and resetting the password in Windows 7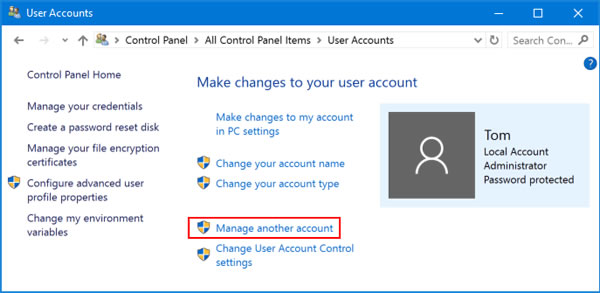 First, you will need to boot your system to a media that can copy a few Windows files around. Firstly, this tool also works on other local admin or user accounts which you can select from a drop down list. Thus you can prevent the user, who protects the account with password, from accessing that account. One of the workstations has an administrator user with a password from two users ago and no one knows what the password is. Note:Be aware that these tools can produce false positives in antivirus software and online scanners because they are trying to change user passwords. When you run the program, it asks you to choose a media type to make the recovery disk.
Next
How to Change Windows Admin Password without Admin Rights
But there are some options to try: Do you have another Administrator account where you know the password that you can login to make the password changes to this account? Then the password will be found and displayed in a list. Or you can carry out the task after forgetting your password even though you set it by yourself. Change Account Password From Computer Management Other than using the tools above to change a user account password, it is surprisingly easy to do it directly from Windows through Computer Management. Click Yes when a confirmation message pops up. This article has also been viewed 166,080 times. In Windows 8, you can do this by simply pressing Windows Key + X + A. You will see Ophcrack runs and find Windows 7 password automatically for you.
Next
How to Change Windows Admin Password without Admin Rights
Then click Reset Password button below the user list. Then boot your computer with the disk, locate the account you want to. Step 4: Reset Windows 7 Password. Once your computer boots up, it will display the Windows Password Refixer screen. As mentioned earlier, why not just create another admin account and not use the default one? Possible failure scenarios include the password not being modified, the password being modified but not to what you intended, or other unknown failures.
Next
How to unlock a PC without knowing and resetting the password in Windows 7
General Discussion Such a title will get me in trouble and possible few viewers but I couldn't figure out how to properly address my problem--sorry. It is convenient for most users because there are no expert technical skills involved that you need to be aware of. This method shows you how to use password recovery software to create a third party password reset disk and how to use it to reset forgotten password for Windows 7 computer. I've tested a few Windows password recovery tools and found out is best among them. Select to highlight the Windows and the administrator whose password you need to change.
Next
How can I change user passwords in Windows 7 and 8.1 without knowing current password?
Step 3: Recover Windows 7 Password with Commands. From the text boxes provided on the Password Reset Wizard, enter the new password on the first two and a new password hint on the other one. You can either setup a password when creating the account or later on when you feel the need to. This time, Windows Password Recovery will startup during booting. This is obviously less secure. It can be able to safely and fast remove your password on Windows 8, 7 or Windows 10 without system re-installation and formatting.
Next
How to Reset Windows 7 Password with or without Reset Disk
You can enable the built-in Administrator account in Safe Mode, but this will work only if there is no administrator account on the system in which case one can access the built-in Administrator account through Safe Mode or you know the Administrator password. Considering the amount of devices we use in the modern day to be updated at all times, definitely has taken a toll on the brain. Although this is a standard Windows interface you are not asked to supply the current password before clearing or changing. It's fast and easy enough for a computer newbie just with a basic knowledge of Windows. With that in mind, it is very important to select the version that will serve you better according to the setting and audience.
Next
How to Change User Accounts Passwords Without Knowing the Users Password
Open an Administrator Command Prompt by clicking on Start or pressing the Win key and typing cmd, then hold Ctrl+Shift and press Enter. Type Dir D: and see if the Program Files, Users, and Windows folders are listed. Be able to recover forgotten Windows password without getting into Windows. Once computer boots, it will load this program instead of Windows 7. Click Yes to agree when it asks whether you want to set this admin password to blank. Just follow the steps as they appear on the interface, and you are good to go.
Next
Change Windows 7 Password with/without Knowing Current Password
Download and install on any one Windows computer you can access as administrator. Run the tool with administrator privileges, select the user from the drop down then choose to set a new or blank password. But the following alternative solutions would be helpful without using password disk. I login to many Win 7 accounts and I never have to change any account. Here is a guide on how to change Windows 7 password using Windows Password Recovery Tool. By default it is 42. Then boot the password forgotten computer from the bootable disk.
Next