Change admin password cmd prompt. How to Change a Computer Password Using Command Prompt: 13 Steps 2019-05-10
change admin password cmd prompt
Friday, May 10, 2019 2:45:14 PM
Bradford
How to Change your computer password through the cmd prompt « Operating Systems :: WonderHowTo
Henceforth, you can change the administrator password from the control panel. Restart the System Modifying Properties of The Existing User Now that we have replaced the Utility Manager, it is time to modify the User to change the Password. After that, plug the disk to the locked device and boot from it. In this case, type All and press Enter. Method 3: Change Windows 10 Password in Control Panel 1.
Next
Reset Domain Password From Command Line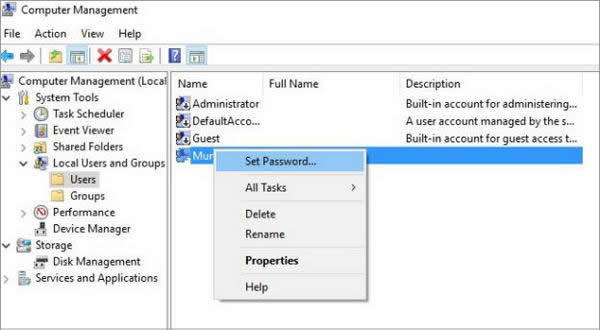 In case the domain is not reachable then you will get the below error when you try to run the above command. Reset Forgotten Windows 10 Password via cmd then you sit down to log into your Windows 10 machine, type in what you think is the password, and bang, you realize you forgot what it was! They are not visible but they got typed. In order to be sure that I am on the right Drive, I will type Dir and press Enter. Now type the following commands in command prompt cmd. It's 100% recovery, so I'm sure you'll enter your system after that. When you use this command without command-line switches, the user accounts for the computer are listed.
Next
3 Ways to Reset Windows 7 Password with Command Prompt
Windows command prompt allows to list out the usernames of a computer. The second method involved creating and using a password reset disk for which you also had to know the account password. Type your administrator password very carefully. The repair disk options may differ for other Windows versions. Step 6: Login Windows 10 with local admin account Close the command prompt window and reboot Windows 10 computer. Firstly, you need an admin account that has administrator privileges. Start your computer and press the Power button for at least 5 seconds when you see it saying Starting Windows to force power off your computer.
Next
How To Reset The Administrator Password Using The Command Prompt
Then a Command Prompt will open. To be easier to reset the login password, you need to use a third party , it is a better and quicker choice. The white space in between breaks down the user name into two and affects the syntax structure i. With net user command, we need to modify properties of existing user and reset its password. If you want to run the cmd as adminstrator. Click on View problem details. Note that the format is not available here.
Next
How to Change or Reset a Windows Vista Password
Domain Specifies name of the domain of the target account. For Mac computers, you can. Now you are logged in. You may end up with trying a wrong recovery process. Windows will load necessary files for recovery and fix the problems automatically. For Better understanding follow the other procedures.
Next
How to Change your computer password through the cmd prompt « Operating Systems :: WonderHowTo
Your Windows Vista password reset is complete. Hello guys, In this tutorial i will show how to get access to the admin account with cmd without a single knowledge of admin password of any computer. You can also provide the password in the command itself as explained above. If he has gone somewhere for sometime, then you can change his pc admin password within seconds for fun. If you are choosing admin password. However, a lot of people find out the steps are too challenging and afraid to get started in case of messing up the computer.
Next
Change Windows's Password via Comamnd Line With Net User
Now you can reset your admin account if you're locked out. You can reset Windows password using the password reset disk. Tips: Command Prompt is not the only method to reset Windows 7 admin password when you are locked out. If you have no admin password to access computer, please choose the recommended option. This article was co-authored by our trained team of editors and researchers who validated it for accuracy and comprehensiveness. Factory reset Windows 10 without admin password No matter you are using administrator, local account or the Microsoft account, you can find some quick solutions here! I will show you how to do that and we just require the. But you need to feed the password twice to make sure that you have entered the password you intended to.
Next
How to Reset Forgotten Windows 10 Password with command prompt cmd
The user password in Windows lets you protect your computer from any unauthorized access. You can also share my post. Now go ahead and log n with your new password. Click on the File menu and Open in notepad. In this case, I will select Ghulam Abbas and the Password will be 123456. It might scare new users, but the.
Next